Hate formal shoes and are a sneaker fan? Then you probably often come across the question — how and where to hide the laces? Most often because of their excessive length, when the ends are dangling or even dragging on the ground. This can lead to various unpleasant situations, if it does not turn out to be traumatic at all. We offer several simple ways to avoid this and hide long laces on sneakers.
№1
A folk way that came to mind for everyone who tied their shoelaces at least once in their life. Just tighten the lacing without a knot and hide the ends under the foot, thrusting the remnants over the sides of the sneakers. The method is perfect when you need to quickly put on shoes and cover a short distance. However, it is unreliable in terms of fixing sneakers on the foot and reducing the comfort of movement over long distances.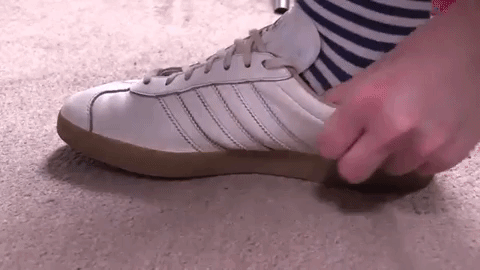 №2
The next method is safer than the first, and allows you to fully tie your shoelaces, hiding them at the same time behind the tongue of the shoe. It may turn out that the knot will press on the top of the foot, but in any case, this is a pretty good option when you need to hide the tied laces in sneakers.
№3
The third method is similar to the previous one, but is designed for very long shoelaces. Before making a knot and hiding it under the tongue of the sneaker, wrap the lacing around your foot. This is considered a safer and fairly simple way to avoid traumatic situations.
№4
The method is somewhat banal and will not hide very long laces, but will allow you to adjust them in length. You will need scissors and glue, just cut the desired length, and glue the fleecy end of the lace so that it does not dissolve too quickly. Thus, while you are looking for shoelaces of the right size, you can temporarily solve the issue.
№5
This method is the most interesting and does not require cutting and gluing something. The desired length is achieved by double lacing. When it is necessary to hide the ends of the laces, then lacing, we do the reverse process, starting the ends of the laces again. That is, through the holes in some places, for example, in the middle, the cord is stretched twice.

Thus, using one of the methods or combining them, you can easily hide your shoe laces and feel comfortable. Have a nice walk!
Source: benarthurstyle.com